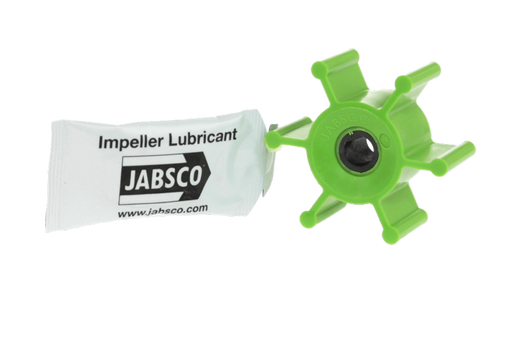 Jabsco Ballast Puppy Impeller (1 impeller + lubricant)
Improve the performance of older Jabsco Ballast Puppy wakeboard ballast pumps or refurbish a pump that's not working with a new premium replacement impeller. This green impeller (Jabsco part #:6303-0107) is the latest generation wakeboard ballast impeller from Jabsco, designed specifically for use in all Jabsco 18220 Ballast Puppy pumps powering automated wakeboard ballast system. This is the OEM impeller for MasterCraft, Correct Craft (Air Nautique), Supra, Moomba, Yamaha, and Centurion and others.
If you've been having problems with your system draining or filling correctly, or if water is leaking into or out of the tanks or bags while the pumps are turned off, replacing your existing impeller with a new green compound impeller will solve all of your problems. The green compound impeller is also a replacement for the now discontinued black and yellow compound impellers, so if you're replacing one of those older impellers, this is the part you want.
Impellers are a wear item, so over time, the efficiency of the pump will be reduced as the compound of the impeller breaks down. That means your wakeboard ballast system will take longer to fill and drain than it did when newer. Replacing a damaged or worn out impeller will restore the speed and functionality of your Jabsco Ballast Puppy pump to like new condition. If you have an original Jabsco Ballast Puppy with a black rubber or yellow neoprene impeller this is a great upgrade you can make to increase the speed and functionality of your system.